Mary Rose (Rosie) Bridges was born February 10, 1912. She was the youngest of six children, four boys and two girls. Rosie's one sister, Eva, was Ralph's mother and was fifteen years older. Rosie was a young aunt to Ralph and his sister Helen, being only nine years older than "Sis". She was a very loving child who stood up for the underdog, even if it meant fighting.

Rosie married Stanley Triplett who was an engineer working for Brockway Glass Factory in Pennsylvania. When a new branch of Brockway was to be built in a different state, it was Stanley's job to get it off the ground. This meant going to the area for a year or two and Rosie usually went along to help. Although they relocated frequently, Rosie and Stanley's permanent home was in the mountains of Brockway, Pennsylvania.

Rosie was always a very independent person. It seems she could do anything.... needlework, refinishing furniture, repairing most anything that needed fixing. She tells about changing tires and doing car maintenance when she was younger. She has won ribbons for her paintings at art shows. It is sad to see her so helpless now in the later stages of life.

When Stanley died, Rosie left her beloved Pennsylvania mountains and moved back to Greenfield, Indiana to take care of her brother, Oren, who was in poor health. He has since died and Rosie has very little family left. Her only child, a son, died at birth. Writing "Life on the Farm" about her childhood took her back to a much happier time.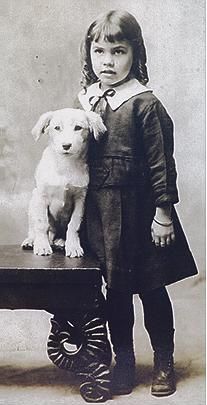 Rosie, age 5